Hannah Potts LaRoque
Daughter of Charity Potts
(b. 1821 - d. 1891)
Lenoir County, NC
---
Hannah Potts was born about 1821, the daughter of Walter Dunn and Charity Potts. In the 1850 Lenoir County census she was 30 years old and living in the home of Walter and Cynthia Dunn. A Dunn descendant says she was a nurse in the home. Sometime after September 1860 Hannah married Dr. Frederick Laroque whose first wife, Mary Elizabeth Dunn, had died.
---
Dobbs County, NC Bible Records, Vol V by Bill Murphy
Frederick H. Laroque Bible - Frederick Horatio LaRoque was a son of Dr. James LaRoque II and Louisa Mabson of Wilmington. He came to Lenoir County to practice medicine where he met and married Mary Elizabeth, a daughter of Walter Dunn and Cynthia Loftin. The LaRoques settled in Contentnea Neck Township of Lenoir County. He died 7 Dep 1865, aged 47 years, 3 months and 27 days.
---
1846 - Williams & Missillier Deed to Frederick H. Laroque, Jones Co, NC
---
Lenoir County Settlements with the State
Abstracted by Russell King
Delinquent or unlisted tax list for the year 1851 & additional returns for other years, Fred'k H. Laroque - 1850 released by court - 1 white person, 3 black persons - 333 acres value 800
---
1860 Lenoir Co Census
F. H, Laroque, 42
Mary, 35
F. M., 14
Susan, 11
Walter, 9
Ann J., 7
W. A., 1
Tully, 52
Martha, 26
Susan Mosely, 22
Cicero Mosely, 18
Francis Mosely, 15
Sarah J. Mosely, 12
Nancy Witherington, 23
---
Hannah Potts Laroque Letter to Newman Potts, 1865
---
James Hines Collection - Misc Folder
Abstracted by Martha M. Marble
Caswell Academy, 1867-1871
2. Second Class - August 5, 1867 - $20 per term - Sarah E. Hines, Amelia G. Hines, Alex. Dawson, Geo. B. Wilson, Mattie or Hettie B. Wilson, W. W. Rouse, Samuel E. Lee, Rich. E. Hill (special at $10), R. Daniel (?) Hill, Wm L. or S. Hardy, Jesse J. Aldredge, Lemuel Hardy, Levi S. Hardy, R. C. Croom, C. R. Ferebee, Walter LaRoque.
---
Sue Laroque Letter to Mary Potts Jones, 1868
---
Kinston Free Press
July 30, 1891
DIED
Mrs. Hannah LaRoque, aged about 70 Years, died at the home of her brother, Mr. W. W. Dunn, last Thursday night (25th) of heart disease. Her remains were interred Saturday at the family burying ground, Reverend H.D. Harper officiating. She leaves a large number of relatives and friends to mourn her departure. [W. W. Dunn was the son of Walter & Cynthia Dunn]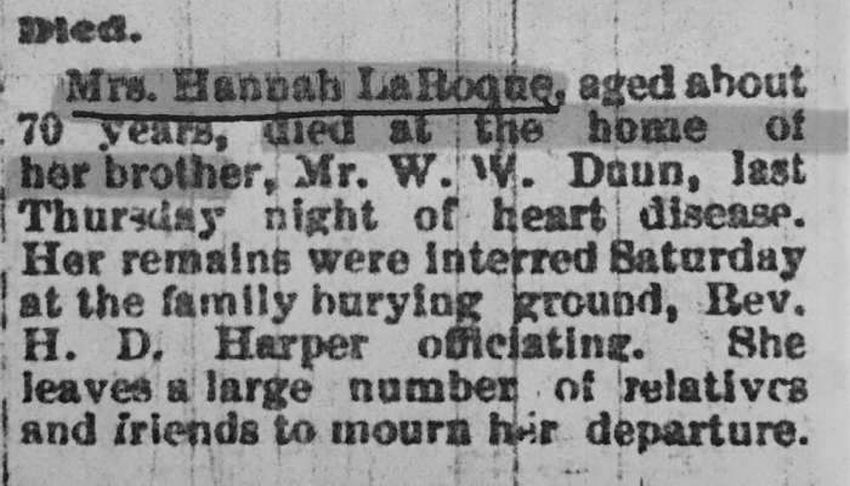 ---
Walter Dunn Laroque (1878-1930)
---
Home