Robert Potts, NC-TN-IL-AR
(b. about 1782 - 27 Jan 1857)
Contributed by Jeanie Potts Nolte
---
Robert Potts was born in Dobbs (Lenoir) County, North Carolina abt. 1782 and was the son of Stringer Potts. He died Jan. 27, 1857 near Garfield, Sugar Creek Twp., Benton County, Arkansas.
Robert married Elizabeth Jones Aug. 4, 1813 and they had eight children. They moved to Illinois in about 1828 and settled in Clinton Co. Illinois. Elizabeth was the daughter of David and Elizabeth Jones, NC to Rutherford County, TN
1. Francis Greene Potts b. 1815 - d. 1846
2. Loamia Potts b. 1816 - d. 1876
3. Elizabeth Potts b. 1820 - d. 1849
4. Thomas Jones Potts b. 1824 - d. 1865 Served In Civil War
5. Louisa Potts b. 1825 - d. 1847
6. Benjamin J. Potts b. 1828 - d. 1854
7. Henry Potts b. 1830 - d. 1857
8. David S. Potts b. 1833 - d. 1870
---
William Jones Family, Jones County, NC
Winsett, Jones and Jarman Deeds, Jones County, NC
---
Robert married 2nd Mary Hale 3 March 1831 in Clinton Co. Il. No children born to this union.
Robert married 3rd Mary Polly Wardlow Fosnot 19 Feb. 1843 in Greenville, Bond Co., Illinois. They had two children:
1. Lucy Potts b. 1846 - d. 1918
2. John Fosnot Potts b. 1849 - d. 1895
Robert set aside two acres of his land in Illinois for a cemetery and it was never to be sold. There is not much left of this cemetery, farmers there have moved the stones into a pile. Image
---
1820 - United States Federal Census
Robert Potts
Home in 1820: Franklin, Williamson, Tennessee
Enumeration Date: August 7, 1820
2 males under 10
1 male 26-44
2 females under 10
1 female 16-25
1 slaves males 26-44
2 people engaged in agriculture
Neighbors in census: Jesse E. Williams, Milley Winset, George Jordan, John Freeman, Joseph Bilifan, Thomas MClary, Nancy Hill, Phillip Hodg, Elisabeth Hodg.
19 Nov 1821 - Williamson Co Deed Bk H, p 334 - Deed from George Jordan to John Duke McClaran 1st mentions adjoining property on Nelson's Creek sold by Peter Young to Daniel Potts, Robert Winsett and David Jones (Jr).
Excerpts from Rutherford County, TN Probate Records, 1809-1827
1840 - Robert Potts Deed, 40 acres in Clinton County, Illinois
1840 - Robert Potts Deed, 40 acres in Clinton County, Illinois
Tennesseans in the War of 1812

1854 - Robert Potts War of 1812 Bounty Land,

80 acres in Fayetteville, Arkansas and assigned to Joseph Holcomb and Robert bought land north of where this was. Robert was a Private in Captain Barnes' Company Second Regiment Tennessee Volunteers.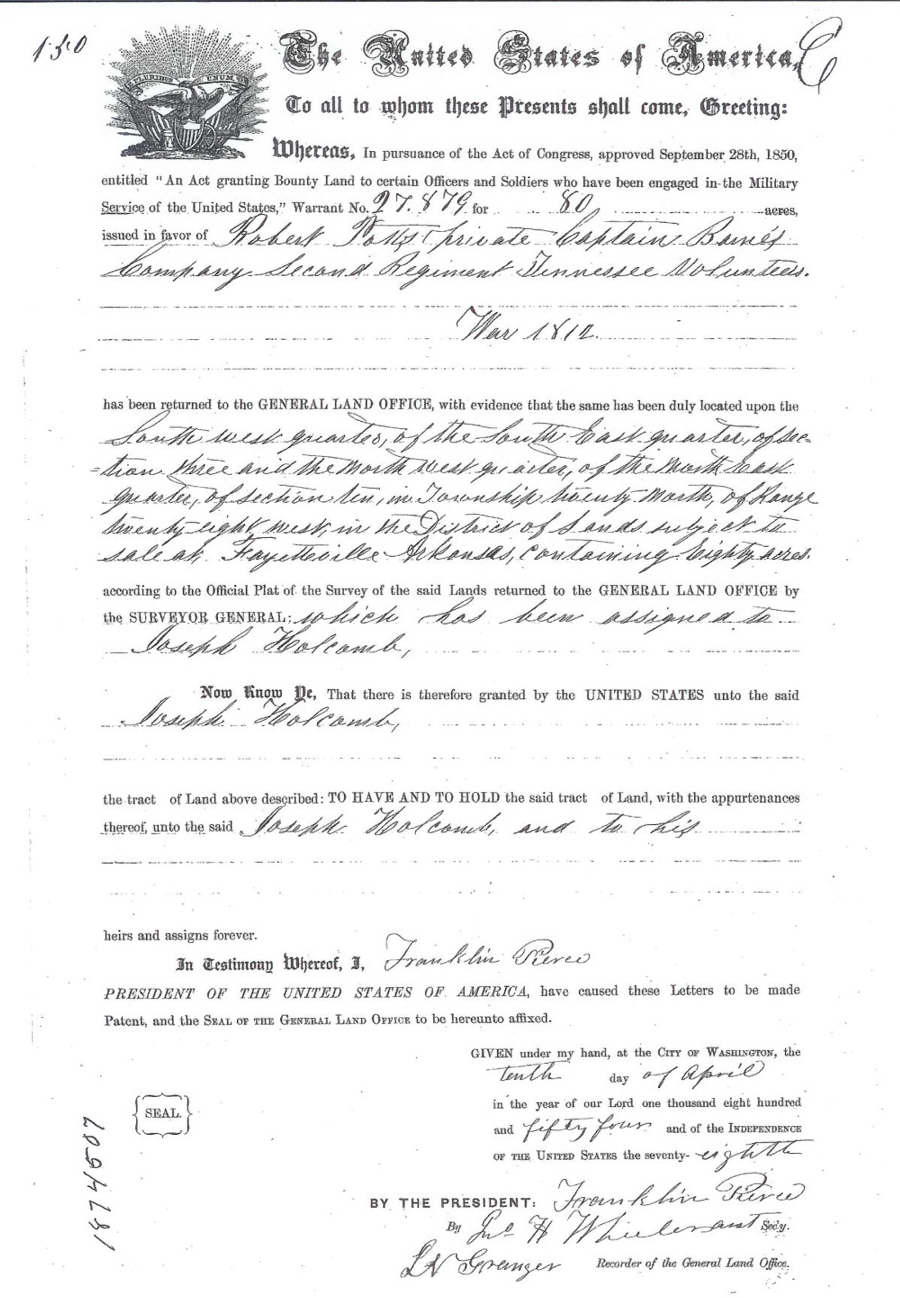 ---
Home