Susanna Potts
(b. between 1785-1794)
Lenoir County, NC
---
Lenoir County 1810 Census
Potts, Susanna
1 free white female 16-25

Neighbors: Isaac Engram, Robert Argoe, Nancy Vause, Eleanor Jackson, Thomas Budds, Markland Wooters, John Budds, Mary Potts, Susanna Potts, Stringer Potts, Dorothy Langston, Danl Harrison, Micajah Witherington, Ellenzer? Fife, William Phillips, Thos Phillips, Celia King, Mary Coleman.
In the 1800 Lenoir census Pleasant Potts had one female under 10, one female 10-15. Stringer Potts had two females under 10, two females 10-15, one female 16-25 one 26-44. In the 1790 census, Stringer had two females ages not given.
---
In the following deed Susanna's signature is Susan and is refered to as "the younger" meaning her mother was named Susan.
Lovit Hines Collection, 1737-1914 - NC Archives
This Indenture made this 28th day of November in the Year 1815. Between Susanna Potts the younger of the County of Lenoir & State of No. Carolina the one part and William Croom of the same County and State & Town of Kinston of the other part Witnesseth – That the said Susanna Potts for and inconsideration of the sum of Twenty three Dollars to me in hand paid by the said William Croom the receipt whereof is hereby fully acknowledged. I the said Susanna Potts haith therefore bargained & Sold and I do hereby bargain & Sell assigns & Let over unto him the said William Croom his Heirs assigns My undivided part or Share of the Lands where Pleasant Potts lived (it being one seventh part of said Lands & Estimated at Four Acres & Three Quarters more or less) and bounded as follows. Begining at a pine in sd pond a corner of a patent granted to Doctor F. Stringer for 640 acres and runs with the reverse of that line 50 Et pole to Shade Loftins line then west with said Loftins line [blank] poles to Wm Whites line then to the Beginning containing thirty two acres & a Half more or less – To have and to hold the aforesaid One seventh undivided part of the aforesaid Land & premises unto the said William Croom his Heirs and assigns for Ever in fee Simple. And I the said Susanna Potts doth hereby covenant & agree to forever warrant & defend the Lawfull title of said Lands herby bargained & sold unto him the said William Croom his Heirs & assigns. And from me my Heirs Exr's & admr's and from the claim of all & Every other person or persons whatsoever. In Witness whereof I have set my hand & Seal the day and date above written.
Susan (her x mark) Potts {Seal}
Signed Sealed &c in presence of
Witness: George P. Lovicke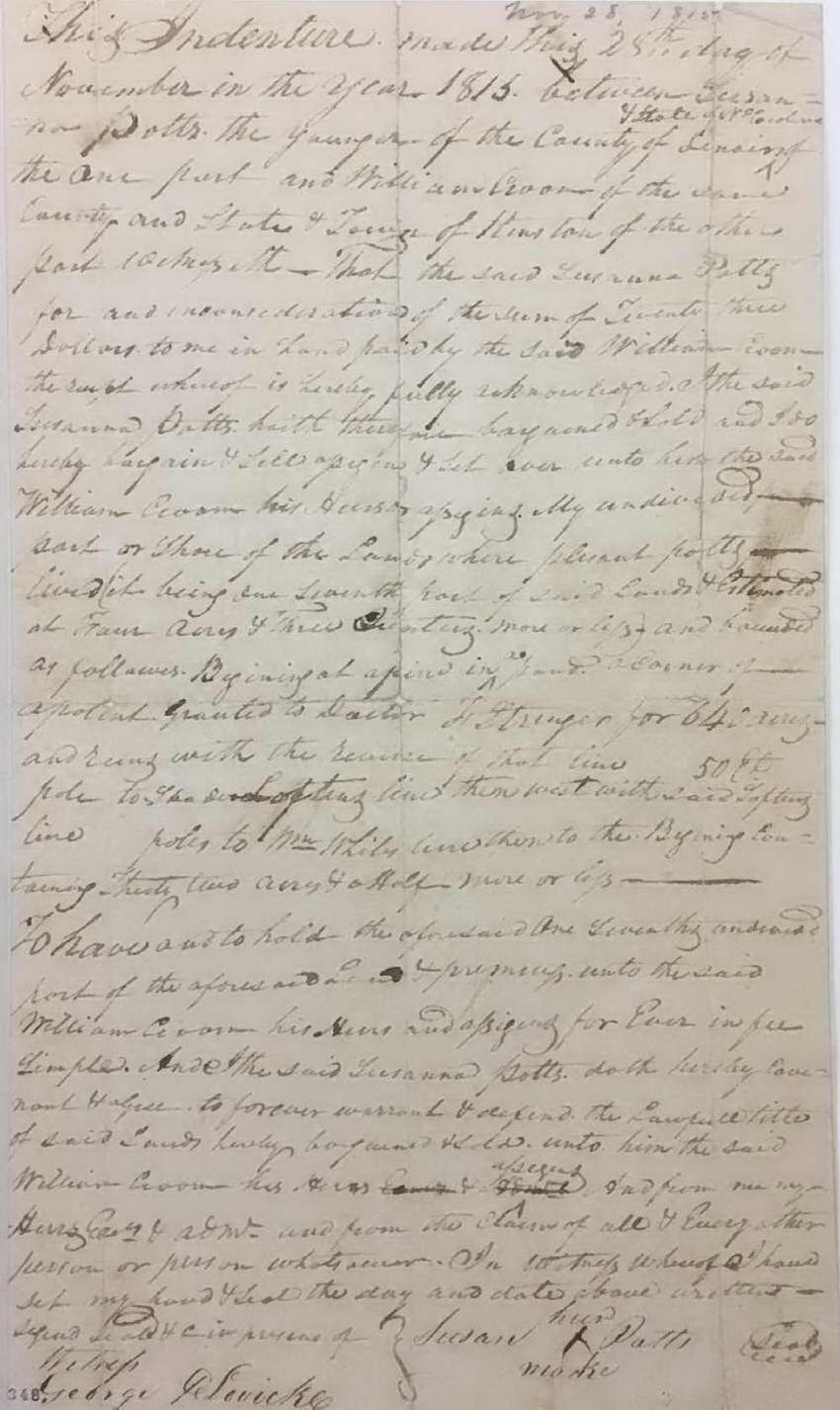 ---
Home