Newman Potts, 1819-1884
Son of Charity Potts
Lenoir & Wayne County, NC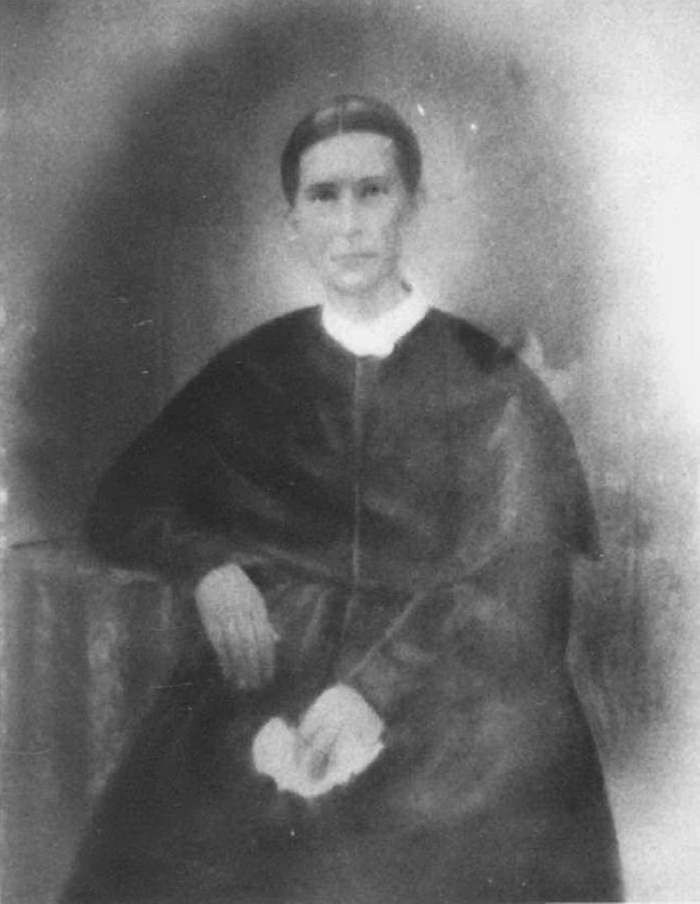 Susan Marinda Lewis
Wife of Newman Potts
Photo contributed by Viola Potts Sutton
---
Our oral family history states Newman Potts, son of Charity Potts and Walter Dunn Jr., was bound out to a family when he was a boy and when he was old enough to make his way, he ran away from his family and by his own efforts and admirable determination, overcame the handicap of earlier life. Y-DNA proves the Dunn/Potts connection.
"When only eight years of age Newman went to live with foster parents, as apprentice, it might have been termed, but he was bound to them until of age. They were very unkind to him and worked him very hard. The man he lived with carried the mail on horse back and sometimes grandfather made the route. On one occasion, just as he reached home a terrible storm broke. He tied the horse and ran into the house. They made him go back out in the down-pour, unharness the horse and put it in the stable. By that time the storm was over and both he and the horse were soaked to the skin. He was a thrifty, hard working, honest, and a straight forward man in every respect, but was of a melancholy disposition, which I attribute to his unhappy childhood." Sophronia Jones Bywater daughter of Matthew and Susan Potts Jones.
In 1847 at the age of 28, Newman bought his first property "on Sleepy Creek" in Wayne County containing 276 acres and an adjacent 25 acres in 1855. In 1860 he bought a 420 1/2 acre farm which he lived on at the time his death. - Deeds - The Potts Cemetery is still there.
---
Newman married Susan Marinda Lewis ca. 1845, daughter of Urban and Susan Casey Lewis, daughter of Micajah Casey.
Susan was born 15 Jul 1828 and died 29 Dec 1883 and her husband Newman was born 1 Mar 1819 and died 13 Apr 1884.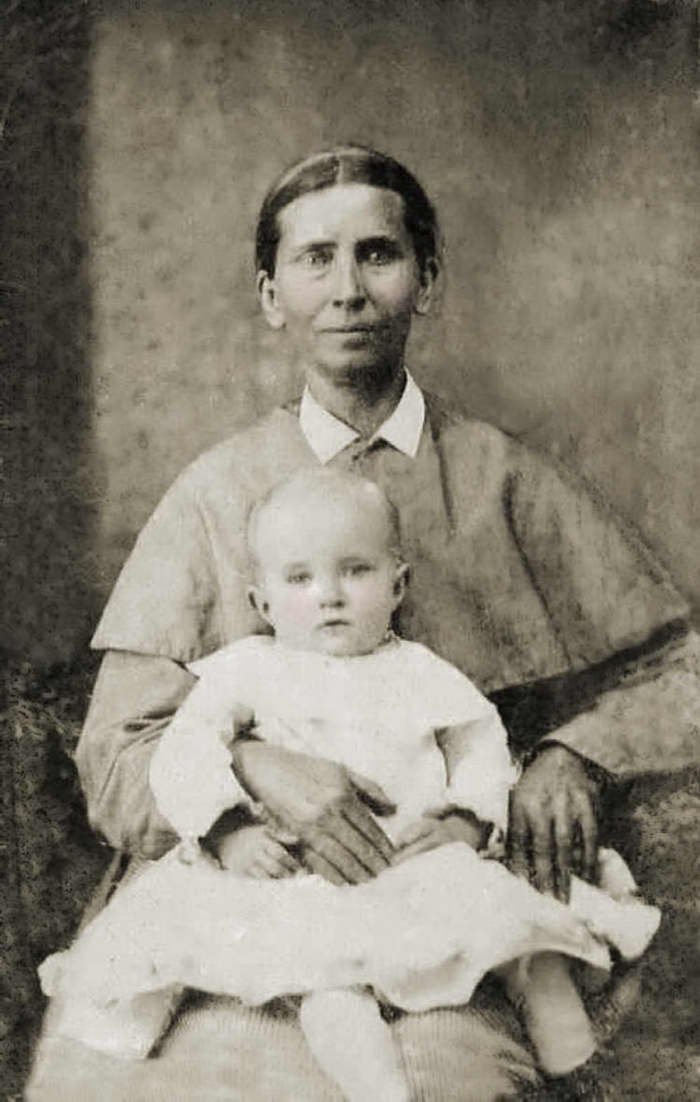 Susan holding son Robert Henry Potts
---
Newman and Susan Potts Family in the Census
---
Newman and Susan's children were:
Charity (1847-1847)
Mary Caroline (1848-1933) married Benjamin Jones
William (1850-1924) married Wilhelmina Casey
Susan Marinda (1852-1920) married Matthew M. Jones (brother of Benjamin)
Newman Jr. (1854-1918) married Mary Abstella Fields sister of John Franklin
Hannah Mariah (1856-1931) married George Stafford
Lucius (1858-1926) married Frances Viola Brown
Cynthia Ann (1860-1940) married John Franklin Fields
Urban (1862-1936) married Frances Lawhon
John (1865-1883), unmarried
Julia Elizabeth (1867-1887), unmarried
Minnie Charity (1872-1923) married William L. Lewis
Robert Henry (1876-1900) married Louisa L. Daniel
---
"On one real hot day there was an old Negro man came to our home to see our mother. He had been one of Grandpa Potts' slaves and when he was a boy he ran away and when Grandpa got him back he whipped him. At the time mother was a small girl and she cried and begged Grandpa to not whip him. This old slave never forgot her, he thought she was a real friend."Julia Jones King, daughter of Matthew and Susan Potts Jones.
---
Potts, Jones, Fields and Stafford Reunion
---
Dunn & Potts by Sarah Virginia (Jennie) Jones
---
Hannah Potts Laroque Letter to Newman Potts, 1865
---
August 13, 1877 - Goldsboro Messenger
County Board of Education, Secretary's Office, Wayne Co, August 6, 1877
The County Board of Education this day appointed their School Committeemen for each School District in Wayne county, to wit:
Brogden Township - Dist. No. 1
Newman Potts Sr., J.A. Fields, John R. Roberts
---
September 2, 1880 - Goldsboro Messenger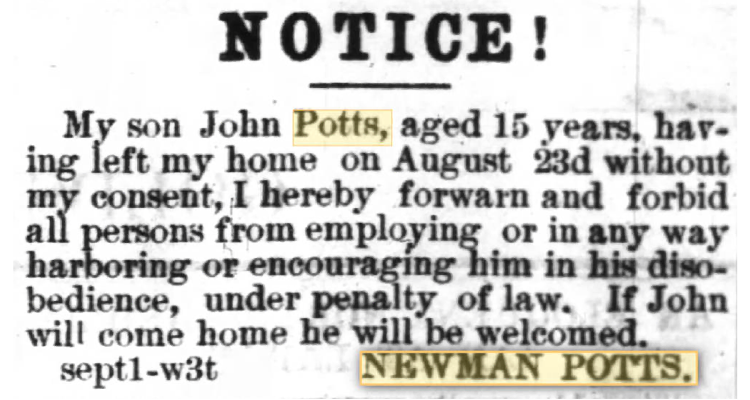 John Potts 1865-1883 - buried in Potts Cemetery
---
October 21, 1880 - Goldsboro Messenger
Taxpayers of Wayne County - Brogden Township
Newman Potts Sr., valuation in 1874, $1,459, State tax $5.83, county tax $7.30.
In 1880 his property has increased to $1,845, and yet he only pays $5.96 State and $4.19 county taxes.
---
At the time of their deaths in December 1883 and April 1884, Susan was age 55 and Newman age 65. They left two minor children. Their granddaughter Jennie Jones stated they died from pneumonia.
Newman made his will on April 4th, 1884 and on April 6th his son William testified in the Superior Court that his father had died and became the Administrator.
Last Will & Testament
Selected Estate Records
To view all of Newman's Estate Records posted on FamilySearch.org Click Here
---
Newman and Susan are buried in Potts Cemetery located off Potts Road on Willard Drive.
"Looking north from our back porch we could see the Potts family burying ground, just across our garden lot. On bright moon light nights, the gleaming white stones seemed to sway ever so slightly like eerie ghosts, and if I was ever outside alone at night, I was careful not to look in that direction". Jennie Jones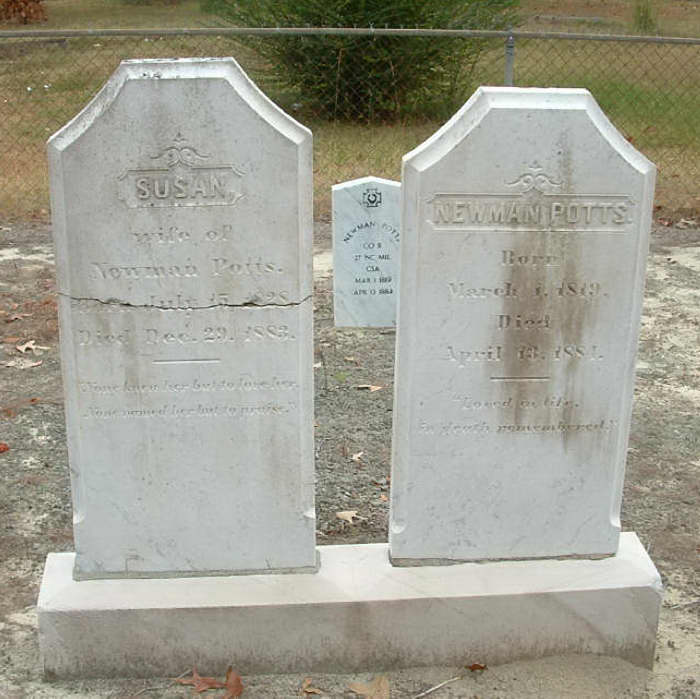 Newman and Susan Potts Tombstone