Stephen Potts
(b. before 1744 - d. 1798)
Lenoir & Onslow County, North Carolina

---
Haney vs Jones Petition - "That some time in the year [blank] Stephen Potts of said county departed this life without wife or issue intestate and possessed of considerable personal estate". [before January 1799 inventory]
There are no Onslow deeds in his name nor is he found in the Court Minutes. He was a witness to two deeds: one dated 1789 in Onslow and one dated 1798 in neighboring Jones County.
---
Book 6, Dobbs County Grantor Deed Index, April 1758 - April 1765
Robert Potts to Stringer & Stephen Potts, page 85


---
Stephen Potts is listed in the Dobbs County, NC 1769 Tax List with his father Robert and brother Stringer.

---
Deed Book 8, Dobbs County, April 1769 - April 1771
Richard Blackledge to Stephen Potts, page 346. Image NC Archives

---
1779 and 1788, Stephen was not on the Voter List in Dobbs County nor is he listed in any available Onslow County Tax Lists.

---
1789 - Onslow County, NC - Moses Fox to James Foy for 50 pounds 19 shillings 4 pence, sold a Negro. Tests: William Jenkins, Stephen Pots. Image NC Archives
---
1798 - Jones County, NC - James Foy Sr. to Thomas Foy Deed of Gift. Wits: Enoch Foy, Stephen Potts.
---
January 1799 - Administration on the Estate of Stephen Potts is granted to John Jones & he to give Bond & Security in £200. Onslow Co, NC Court of Pleas & Quarter Sessions
---
Janmuary 1799 - Stephen Potts Estate Sale in Onlsow County, North Carolina.

A just account of sale of the estate of Stephen Potts Dec'd this 29 day of Janr 1799
Total from sale: 89 pounds, 17 shillings, 3 a
Buyers at estate sale: Geo Brinson, Dennis Ellis, Enos Ellis, Saml Evan, Jas Foy, Wh't Hadnot, Jno Jones, Thos King, Amos Love, Wm Norman, Barshaba Potts, Danl Shepard, Frances Walker
---
April 1799 - An Acct of Sale of Stephen Potts. Onslow Co, NC Court of Pleas & Quarter Sessions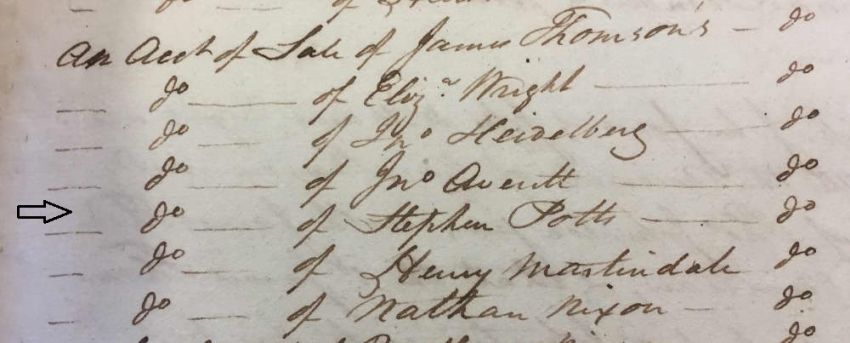 ---
Home